Inaugural Events for Governor Albert Bryan, Jr. & Lt. Gov. Tregenza Roach winds down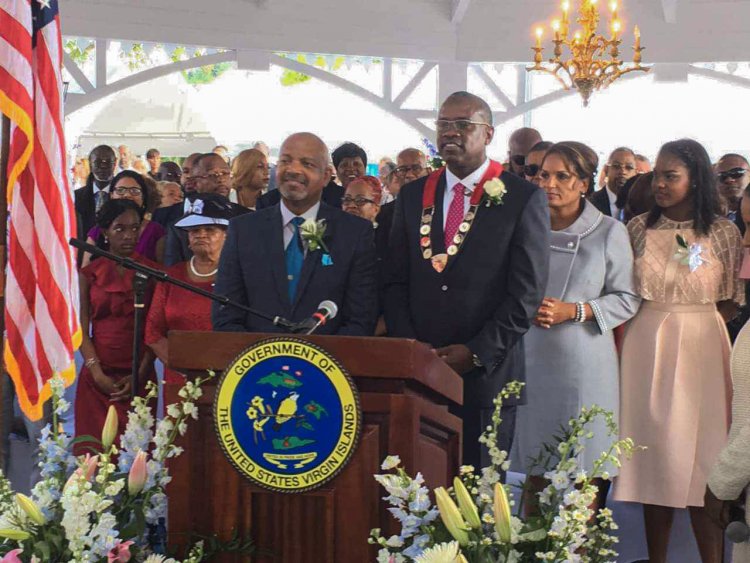 New leadership has taken over the United States Virgin Islands as the Ninth Elected Governor, the Honorable Albert Bryan, Jr. and Lt. Governor, the Honorable Tregenza Roach take their oath of office: and the celebrations continue.
As the inaugural events wind down, it certainly isn't over as the new administration celebrates on all three islands. The team will begin its final day of celebration on the island of St. John Wednesday, January 9, 2018 with a Post Inaugural Ecumencial Service at 10 a.m. at the Our Lady of Mount Carmel, Cruz Bay, St. John. With tradition, a Post Inaugural Ceremony will be conducted at the Franklin A. Powell, Sr. Park, Cruz Bay.
Things will get a little more relaxed as the public is invited to an Open House Reception at Mongoose Junction, Cruz Bay scheduled between the hours of 1:00-3:00 p.m. The big finale will be the Inaugural Ball on the Grand Vic scheduled for 7:00 p.m. - 12:00 a.m.
On Tuesday, January 8, 2019 the "big island" was not going to be denied as they staged their events of celebration that began with a Post Inaugural Ecumenical Service at St. Ann's Catholic Church , Barren Spot, Kingshill. They then displayed their military appreciation for the new Commander in Chief with a Military Parade. Festivities then moved on to the historic Bandstand at Buddhoe Park in Frederiksted. They concluded with a open house reception at Government House, Christiansted and a Inaugural Ball at the Tradewinds Flight Center. St. Croix began the celebration on Sunday, January 6, 2019 with a Unity Praise and Worship Service at the City of Refuge Worship Center in Barren Spot, Kings Hill.
The official events kicked off the celebration in the territory's capital of Charlotte Amalie, St. Thomas on Monday, January 7, 2019. The Inaugural Mass began at the Sts. Peter and Paul Cathedral in Charlotte Amalie. The Inaugural Ceremony took place at the David Monsanto Bandstand, Emancipation Garden. This event filled with dignitaries and numerous elected and former officials, not only from the Virgin Islands, but neighboring Caribbean countries as well.
As the administration changed after taking their oath of office, the speeches delivered were deep thought movers and provided a great sense of optimism. Our new administration viewed and enjoyed a Military Parade, an Open House Reception at Fort Christian and the Inaugural Ball at the Mark C. Marin Center.
Already as we see these list of events that were inclusive and on all three islands, we await the price tag as we will see if the course indeed has been changed. We celebrate and welcome our new administration of Governor Albert Bryan, Jr. and Lt. Governor Tregenza Roach.